I am looking for writers from different backgrounds and who have a range of different writing styles to each write a piece that is influenced by one of my drawings. Each participating writer will be sent an A3 Giclée print of the drawing about which they have been chosen to write. Each print would be  the first of a limited edition of 20.

I would like to work with writers who find that my work sparks their imagination. www.elbedlow.co.uk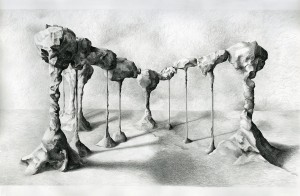 I am interested in how my work can be interpreted by different writers and how art can be written about with a new and unique approach. The piece of writing can be in any style and of any length. The collaboration will be published on my website and publicised on social media websites with a hope of starting a dialogue with other artists and writers.
Once I have compiled a collection of pieces by different writers I would like to l develop the project further, with the possibility of getting the compiled material published as a book and to present the work as an exhibition.
For any interested writers please write to: eleanorbedlow@gmail.com